Somewhere in the eternal vastness of space and time, somewhere upon a westward wind, there is a point where Gypsy Punk, Jam Band, and New Grass collide with cosmic force.
That point is Ponder the Albatross.
The "Ponder Phenomenon" is given its drive and force by Josh Bower's ecstatic mandolin, guitar and vocals, Luke Lindholm's searing fiddle; ably abetted by Eric Vrtis' whisking wave of bass & vocals, and Will Schiesser's symphonic symmetry on the drums.
Every song, every show, every performance, is masterfully executed with the frenetic abandon of a Dervish whirling in a swirling mystical haze that impels audiences to engage and become active participants in the shared experience.
Since the band's formation in 2015, Ponder the Albatross has lived for the road, playing live throughout the US and the Rocky Mountains, steadily gaining ground and breadth with every step. Playing upbeat Rock/Gypsy/Grass and getting mountain bars and festivals up and dancing with a strong connection to the music, Ponder the Albatross is a Mountain Band, through and through. You can hear the inspiration of the road, the sea, and the trees in their words and from their instruments – Music that speaks to spirit of wanderlust, to the flight of the Albatross.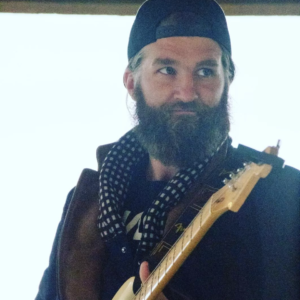 Josh Bower
Vocal, Mandolin, Guitar